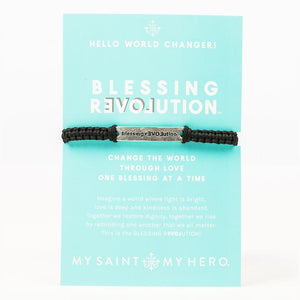 Blessing Revolution
Change the world through love one blessing at a time. Imagine a world where light is bright, love is deep and kindness is abundant. Together we restore dignity, together we rise by reminding one another that we all matter. This is the Blessing rEVOLution! 
Wear One - Let's join together as one team, wearing this bracelet as our uniform.
Be One - Each bracelet is woven with love and blessings by global communities. Your purchase helps alleviate poverty and restore dignity.
Share One - As you take your bracelet off your wrist and share it with someone in need, this simple act of kindness reminds them they are loved. 
Repeat! - You are changing the world through love, one blessing at a time.
Handwoven in Medjugorje, Bosnia and Herzegovina
Adjustable bracelet cording which opens to 9.5" diameter, closes to 6.25"
Silver-tone or gold-tone zinc bar engraved with the words "blessing rEVOLution," and a "blessed" tag
Medals made in Italy
Please do not try to bend the bar to shape to your wrist
On an inspirational card